On my birthday weekend, I travelled to the charming city of Verona. In this post, you'll find out why Verona is worth exploring.
As a UNESCO World Heritage Site, Verona offers a wealth of attractions and experiences. From its fascinating past dating back to the 10th century B.C. to its association with Shakespeare's Romeo and Juliet, Verona is a captivating city.
Join me as I delve into the rich history, iconic landmarks, and must-see places for two days in the most romantic city in Italy.
Verona's history in short
Verona has a fascinating past that dates back to the 10th century B.C., as evidenced by archaeological findings. However, many of the today's attractions are the remains of the Della Scala era. The Della Scala Family, who ruled Verona in the 13th and 14th centuries, brought great prosperity and power to the city.
Piazza Bra – the heart of Verona
No city tour would be complete without crossing this square. It hosts the Arena di Roma, an impressive Roman amphitheater that you best witness during a late-night show (check the Arena's calendar here). After experiencing the wonderful opera, The Barber of Seville, I recommend bringing a pillow or purchasing one, as the seating is quite hard.
Piazza Bra is also famous for its liston. This colorful building front hosts numerous cafés and bars where you can take a cappuccino while watching others pass by.
And you usually enter or exit Piazza Bra through Portoni della Bra, a grand arched entryway with its characterizing clock and the attached Pentagona, a defensive tower.
A setting for fame: Shakespeare's Romeo and Juliet
One of Verona's claims to fame is being the setting of Shakespeare's iconic play, Romeo and Juliet.
You can freely walk in front of Casa di Giulietta, Juliet's former home. Don't forget to touch the bronze Juliet's breasts. It's said to bring luck.
The city is defined by the Adige River, Italy's second-longest river after the Po River. If you want to escape from the city's busy streets, the meandering riverbanks may be the right choice for a walk.
Make the most of your two days in Verona.
You can explore the whole city on foot and stroll around spontaneously. Nevertheless, I recommend planning a rough route. Otherwise, you may end up walking more than 20 km like we did on our first day in Verona. In my itinerary below, you'll find the most important sights as a reference.
Verona offers many wonderful sights and impressive views for free. But if you pay a ticket, I recommend you check out where else you'll be admitted with the same ticket. For example, we explored the Scaliger Tombs after visiting the Castelvecchio Museum.
You probably get the best view of Ponte Scaligero from Castelvecchio Museum.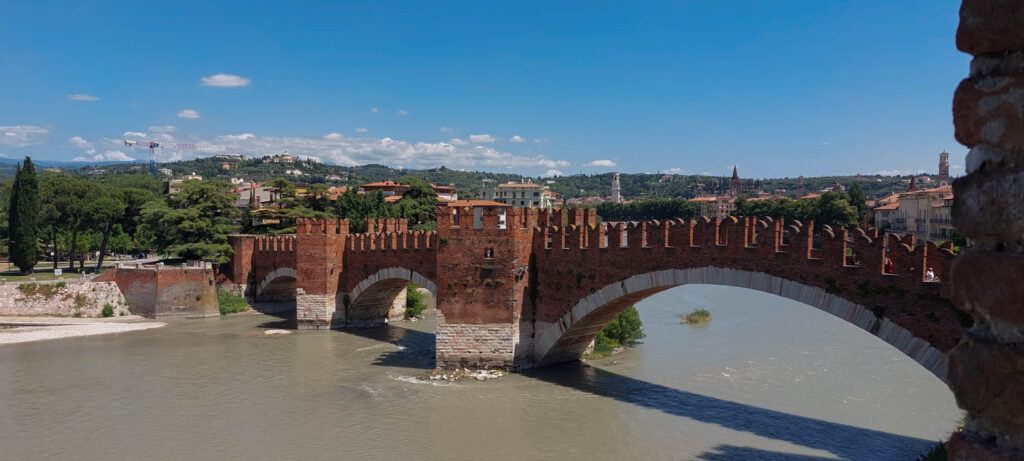 There're plenty of cultural offers in Verona. An opera or another show at the Arena are just one of the many options in Verona.
Anyways, I'm sure you'll enjoy your two days in the most romantic city in Italy just as much!
Let me know in the comments if any other sights, bars, restaurants or cultural events in Verona are worth visiting. I'll probably be back in the future.
If you're looking for a short relaxing break from your visit in Rome, check out nearby Lake Bracciano in my last post here.